With our self-paced online digital literacy course, students can study at home and in the classroom to learn computer and Internet skills required for college and career. Increase learning productivity in the classroom by closing the digital skills gap.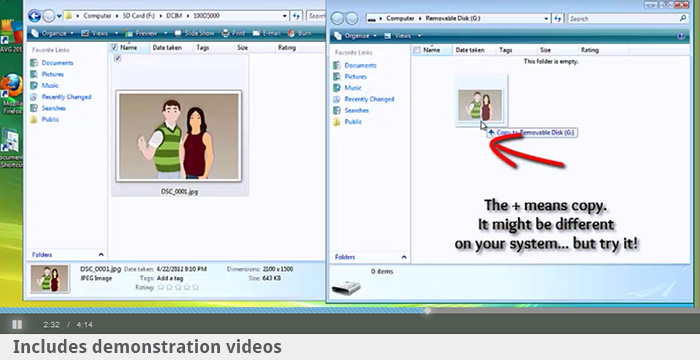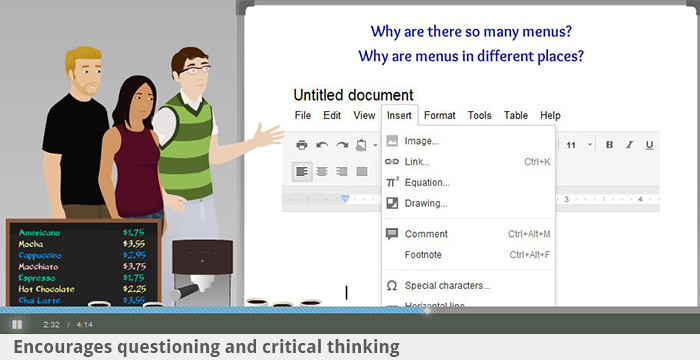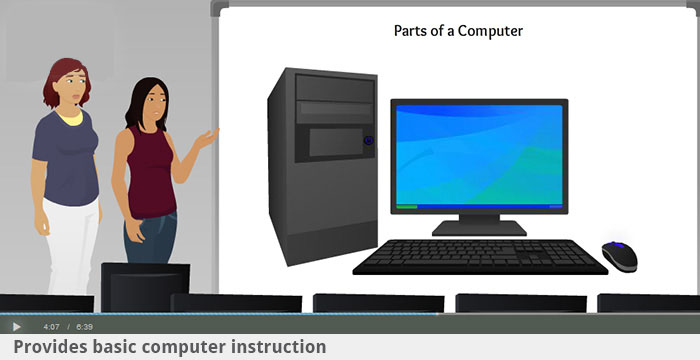 Students learn to navigate software applications, operating systems, and the Internet. Fundamental skills include keyboarding, opening and closing windows, scrolling, navigating menus, and using hotspots. These skills are critical to success in online tests and knowledge work. Learn more about computer literacy modules.
Can your students conduct research online? Organize files? Students learn to work faster and smarter. New skills extend students' abilities to connect with others, access information, and relate new ideas. Students will communicate using email, social networking, word processing, and charts, graphs, and tables. Learn more about digital communications modules.
Understanding the safe, legal, and responsible use of information and technology is essential. Practicing legal and ethical online behavior is a must in the modern Internet era. Students learn how to protect personal information and copyrights and how to be safe online consumers. Learn more about digital citizenship modules.
Builds Self-Confidence and Mastery of Computer Skills
Students relate to virtual students who face the same learning challenges
Customized learning plans focus on the specific material a student needs to learn
Achievement is positively reinforced through visual progress bars and alerts
Moving Beyond the Basics

By learning the concepts underlying everyday computer use, students can navigate any operating system or device without getting lost or frustrated. Iterative practice and feedback builds confidence, accelerates learning, and helps students achieve proficiency.

Adapts to Students' Skill Levels

Self-paced and self-directed, students see their achievement as they advance through the program. Built on an adaptive learning platform, Computer Essentials Online tailors lessons to the student's level or experience and mastery.

Close the Digital Divide

Remove the barriers of online test taking by familiarizing students with technology early. With increased computer literacy in the classroom, instructors can focus on teaching and students can build an ecosystem for life-long learning.
How to Buy Computer Essentials Online
Pricing is based on the number of seats used at any one time, which are licensed annually. The minimum purchase is 10 seats, but pricing will be prorated if additional seats are added. To order, call 1-800-460-8150 or send an email request. Seats can be reused when students leave or complete the program. Statewide and multi-site licensing available. Mulit-state and bundled pricing options are also available. Learn more about pricing and licensing.
Computer Essentials Online Pricing
---
Small Program

$40.00/seat
Order Computer Essentials
Choose the number of seats to fit your class or school, then enter the exact quantity you want in the box and select "Order"
BBB Accredited Business
Accredited by the BBB
Essential Education is an A+ rated company, having met the rigorous requirements set by the Better Business Bureau.

Contact Essential Education
Our educators and support staff are ready to help you with any questions you have about the Essential Education Accelerated Learning Program and how it can fit into your adult education curriculum.
Follow Us on Facebook, Twitter, and YouTube
Call Toll Free:
(800) 460-8150 |
International Calls:
1+ (541) 602-9771
Essential Education
| 895 NW Grant Avenue | Corvallis, OR, 97330