Student Help Center
How do I change my language settings to Spanish?
If you are studying at a school or in a classroom that has added our Spanish courses to their system, you will be able to change your language settings from  EN (English) to ES (Spanish). 
Use the toggle. 
To do this, you can use the Language toggle located in the top navigation or Profile menu from your HomeRoom. 
Language toggle: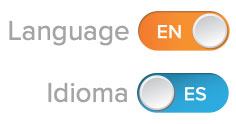 Select either Spanish or Inglés.
Students can also change their language setting within individual lessons by selecting Spanish/Inglés in the top left corner of the lesson video player. 
Learn more about how to start a lesson in your HomeRoom. 
Why doesn't all content appear in Spanish when the language is set to Spanish? 
Most of our courses are offered in Spanish, but some are still being updated. A popup message will show to students when a course or subject isn't offered in Spanish yet, and will stop showing once the course or subject has been updated. 
Watch in detail how the language settings work on desktop and on mobile devices.