Help Students Discover Their Dream and Purpose in Life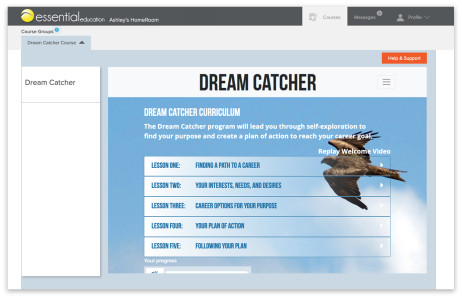 DREAM CATCHER ADVANCE OVERVIEW
Dream Catcher Advance is an online, self-paced career planning course designed to help students figure out their true purpose and goals in life. Without connecting a student's education path to their emotions and dreams, their education quickly loses its relevance and meaning. A series of powerful videos with real life stories helps the student find deep motivation for success and will help them stay focused and keep coming to class because they are connecting their efforts to their dreams. This course contains 25 lessons, videos, and practice activities as well as a built-in personal career planning journal and plan.
Order now
SENSE OF DIRECTION
Without a clear goal and purpose for their education, adult learners can get lost and lose their way. Research shows that without a clear plan and the tools to make it happen, adult learners do not complete their education. Dream Catcher Advance is the solution. It's an easy-to-use course that will help students discover their true purpose in life and put together an action plan they can follow to find success on their educational journey.
Order now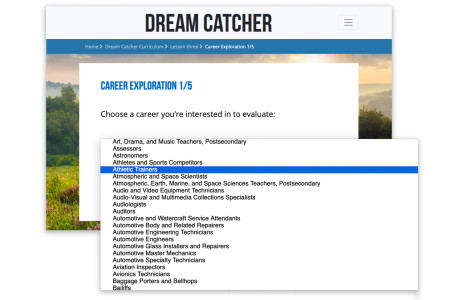 INTAKE AND SUPPORT
Dream Catcher Advance is the perfect tool for the intake process when it's critical for adult students to define their career pathways and plan out their education. Even better, Dream Catcher Advance can be easily integrated into academic and career pathway programs, so that the student can seamlessly connect their education progress to their goals and purpose. With a clear reason for their education and training students are able to find the motivation to keep going.
Order now
Step One
Students examine their own self-image & how their mindset can help or hinder moving forward toward a career.
Step Two
Student discover how their interests, skills, personality & strengths align with career & job opportunities.
Step Three
Students gather data about jobs, salaries, work conditions & the required training & education for each.
Step Four
Students develop a plan of action to move forward with career decision making & a career path.
Step Five
Students learn to execute & adjust their plan by examining desires, interests & means to change their lives
Order Dream Catcher Advance Today
Small Program
---
$15.00
per seat
Multi-Class
---
$12.00
per seat
Large Site
---
$10.00
per seat
Minimum purchase of 10 seats required. Each seat can be used one time and are not reusable. These seats do not expire.
Order Dream Catcher Advance
Enter the quantity of seats to fit your needs, then select "Order".
Please allow 1-2 business days to receive your quote via our online Quote Request form.